It's recipe time here at The Suburban Life and boy do I have a doozy for you.  This dish is one that ticks all the important boxes.  It's delicious.  It's easy.  It uses ingredients you may have in your fridge.  It's a crowd-pleaser.  It might impress people.  If you care about that kind of stuff.  Which I don't.  Since I tend to simplify pretty much anything I can.  And I prefer to impress people with my witty personality over my skills in the kitchen.  Because they generally lack.  And may not actually qualify as "skills" per se.  Come to think of it, I'm not all that witty either.
I digress.
Bacon wrapped chicken.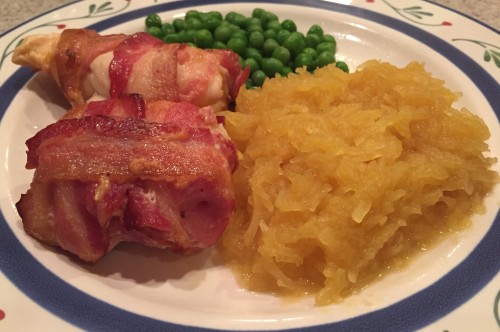 Bacon Wrapped Cordon Bleu Chicken
Serves 4
Ingredients:
8 Chicken Tenders
8-16 slices of bacon (depending on size and thickness)
4 oz softened cream cheese
2 green onions, sliced
4 oz deli ham, chopped
1/2 cup swiss cheese, shredded (can substitute provolone or any meltable cheese)
Directions:
Preheat oven to 375 degrees;
Pound thawed chicken tenders until about 1/4″ thin;
Combine cream cheese, onions, deli ham and swiss cheese in bowl, mixing well;
Spoon 1 -2 Tbs of cream cheese mixture into center of each chicken tender and roll up, keeping the cheese to the center;
Wrap bacon around rolled chicken tender and secure with toothpick if needed;
Bake on baking sheet for 30 minutes and then broil topside for 5 minutes to crisp, turn tender over and broil other side for additional 5 minutes.
Additional notes:
Enjoy.  Don't think about the calories.  Bacon is a protein.  It's natural and from nature.  So is cream cheese.  I mean, it has natural stuff in it.  Swiss cheese?  Do the Swiss people do anything wrong?  And then there's ham (see bacon, above).
Additional additional notes:
Okay, real talk, it's bacon wrapped chicken.  You *might* consider jumping on the treadmill for 30 minutes or maybe throw in a Tae Bo tape immediately upon consumption of the above meal.
Lov'n in the Tumm'n,
Mindy