You.  All.
I stumbled across this Bread Machine Cinnamon Rolls recipe on the interweb with zero intentions of actually making it, like every good Pin-a-holic out there.  I promptly added it to my Pinterest Carb Loading Board (I mean, I might run a marathon some day or something) and went on my merry way.
But it haunted me.  And burrowed itself into my brain.  And whispered to me from the pantry.
"Mindy…psst…Mindy.  It's me, flour.  Me and sugar have been talking and we're pretty sure you need those cinnamon rolls.  Yeast is always up for anything so that shouldn't be an issue.  Go grab bread machine from the garage and we'll have a party."
Not one to succumb to peer pressure, I rolled my eyes at flour and continued on with my important task of cleaning off my Hulu queue.
"Mindy…come on!  What are you waiting for?  Cinnamon rolls, man.  Cinnamon rolls."
And because I lied earlier and totally succumb to peer pressure all the time, I acquiesced.  And then thanked the Good Lord in Heaven for creating people who created bread machines.  And cinnamon rolls.  And all the ingredients that make cinnamon rolls.
Now the recipe.
Bread Machine Cinnamon Rolls
Dough
1 cup plus 2 tablespoons warm milk
3 tablespoons oil
1 egg, lightly beaten plus 2 egg whites
1/2 cup sugar
4 cups flour (Add a bit more if dough seems too wet after first few minutes of kneading in the bread machine.)
1 teaspoon salt
3 teaspoons yeast
Filling (Can be adjusted for taste…this provides a LOT of filling which is how we like it.)
4 tablespoons butter
1 cup brown sugar mixed with 2 tablespoon cinnamon
Icing:
1 teaspoon milk
1 1/2 cups confectioners sugar
4 tablespoons (or less) butter, softened
1 teaspoon vanilla
Put the dough ingredients in the bread machine in the order listed and run on the dough cycle. After the dough cycle is finished, roll the dough into a large rectangle and spread it with 4 Tablespoons melted butter and brown sugar/cinnamon mixture.
Roll up and cut into 10-15 rolls and place in two greased round cake pans.
Bake at 325 degrees for 20 minutes or until browned. Spread the icing on as soon as they come out of the oven.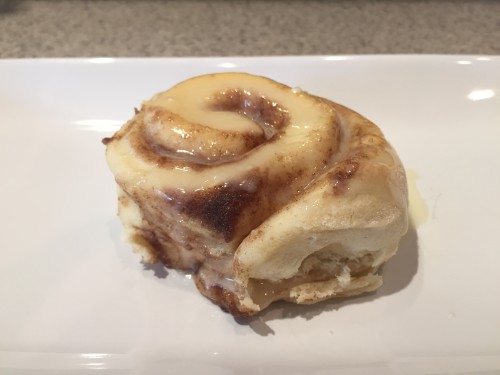 You can also cover the unbaked rolls with plastic wrap, stick them in the refrigerator overnight, and then bake in the morning.  Expect the little buggers to rise the longer they sit so you may have to increase your cooking time.
**much thanks to Money Saving Mom for sharing this fantabulous recipe!
I hope you enjoy!
Mindy