Amidst the holiday hubbub of hating on red cups and prepping for the mad dash at Black Friday, er, Black Thursday-and-a-half (don't even get me started on THAT topic), it is easy to bypass a day set aside to honor those who truly deserve our wholehearted attention.
A Veteran's Day Salute
I grew up with a Veteran of the Vietnam War.
This handsome young fella happens to be the man-beside-the-woman who raised me.  My dad.
I remember always being proud of him.  There is an aura about Leland that demands respect and just a little bit of awe.  I am sure anyone who knows him would agree with me about that.  But he was also (and still to this day is) the quintessential gentle "giant." He presented with an unparalleled work ethic and commitment to provide but underneath that drive bubbled an appreciation and admiration for the family he was afforded and for which he felt very blessed.
That very same love, devotion, commitment and appreciation he felt for and gave to his family he applied to his service during his time in the Army, and more importantly, after.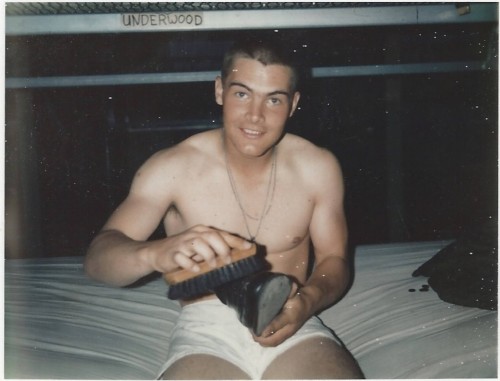 A service person's time is never up.  Whether in uniform or out, the passion for the job remains.  And as our world grows evermore tumultuous, Veterans and Active Duty alike remain devoted to their commitment to serve.  The passion doesn't die with the end of their tour(s).  It remains alive and well despite circumstances that would send even the bravest running in the opposite direction and leaves many itching to get back in and help. THAT deserves our utmost respect and gratitude.
So, on this day I most humbly say Thank You. And I know I speak for most when I add that our appreciation goes far beyond just today.
Mindy