I am absolutely not kidding when I say that I am sitting here on my couch, looking out my picture window into the backyard and watching my almost 3 year old son, Jack, trying desperately to pull his pants off and pee into his wading pool. Man, I wish I had that kind of determination.
He wants it.
Badly.
He is ripping at his waistband with a vengeance. I can actually see the veins popping out on his forehead as he tugs and pulls. Down go his shorts.
Oh, crap, the diaper. I have to say, those disposable diaper companies knew what they were doing when they added Velcro to their diaper tabs. That's really stumping him.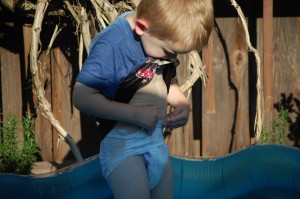 He's just about given up. Oh, I really want to go out and help him. I feel like I should reward his motivation and resolve. You don't see that kind of perseverance very often anymore, you know?
But then the "mom" part of me wins out and realizes that if he succeeds I will have to clean urine out of the pool, again.
Sorry, dude.