So, this guy.
He is soon to be turning the ripe ol' age of 9 years young and I've been trying to squeeze some gift ideas out of his very busy brain.  You'd think that would be simple, right?  "I want…and I want…and I want…and I want…and I want…"  Not with this dude.  He's a complex creature.  Decisions are not made lightly or with little regard.  There's no, "I want a toy.  Any toy.  If it's plastic, I want it.  If it makes stupid noises, I want it."  He typically has a very specific agenda and his wish list includes items that tick many different boxes.  Amazon, with it's bazillions of options, is like a playground.  And every year before his birthday and Christmas we spend a good amount of time perusing various categories.  Books, toys, clothes, electronics.  You name it, we consider it.  He'll often, with my go ahead, log on to Amazon and do some "shopping" for his wish list all on his own.  It's always a bit of an adventure for me to see what made the cut.
This year was no different.  I sat down with my little man and went over his wish list, editing out the items that don't ring his bell and adding the items that do.  However, this time I noticed a different trend.  There were some things that quite frankly didn't make much sense.  So I asked him, "Jack, what's this one for?  Since when have you been into that?"  Still plainly focused on the screen he answered, "Oh, that's not for me.  I put it on my wish list for Avery."  Hmmm.  I asked, "Why did you add something for Avery to your wish list?"  He looked up from the screen and answered, "Because I thought if someone got it for my birthday I could give it to her.  She would really like it."
Awwww.  I mean.  Can you even?
That, my friends, is what you would call Kid Goals.  Behind every naughty action, every selfish move, every lazy habit and every ignored rule is an absolute heart of gold.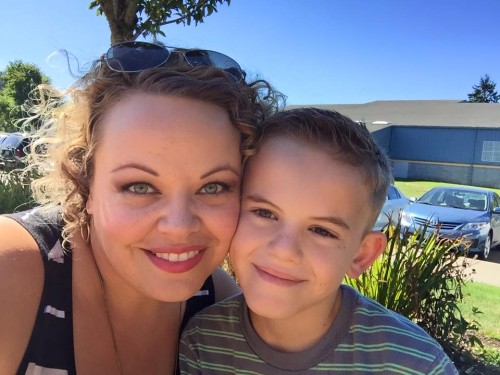 And he's mine.
Happy Friday,
Mindy