Well, the tree went up yesterday and today was the day for decorating!
I always look forward to this part of the holiday season because I think there is such joy in sorting through ornaments of past and present. The kids love hearing stories about each ornament and then creating their own stories as we place them upon the tree. After decorating the treewe drink hot chocolate in front of a roaring fireplace and talk about our Christmas wishes.
Sounds lovely, right? Yeah, if you live inside a Hallmark card.
Let me explain to you how the real scene plays out.
We open up the Rubbermaid totes full of ornaments and the kids dive in head first, immediately fighting over who gets to put what where. I start yelling that we are going to "enjoy this moment and stop the arguing or no one is going to help me decorate the dang tree!"
I turn on Sounds from the Season to pipe in some much needed peaceful Christmas music only to be drowned out by Jer's apparent need to watch…Monday Night Football. Ahh, nothing says Christmas like helmets crashing and announcers…well, announcing.
Desperate to gain a little control over this situation I assign each kid a job. Jack was to sort out the homemade ornaments, lovingly handcrafted by my grandmother decades earlier. Avery was to work on hanging the wooden ornaments.
This is what happened.
Adorable, yes. Practical, not so much.
And then this happened.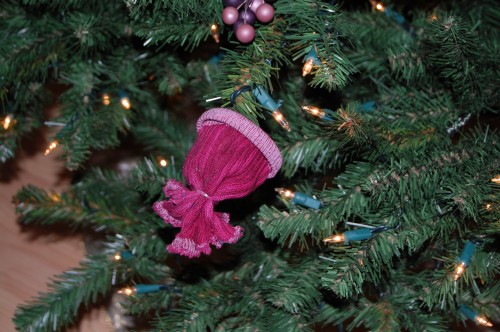 Jack started finding all kinds of things to throw on that tree like this tiny little stocking cap. He also managed to fit a pair of socks, Avery's toothbrush and the dog's collar on those branches.
I covertly began moving some of the "extra" ornaments off the tree and reorganizing the other ones he had so lovingly placed. I thought I was just about done when I looked down and realized he had followed behind me and reorganized my reorganization.
This was the point I stopped fighting the fight, sat down, put my feet up and enjoyed the scene unfolding before me. I saw a little girl enraptured by the beauty of the lights on the tree and appreciative of allthe hardwork put into each and every ornament. I saw a little boy with joy and love in his eyes as he takes in every moment of this holiday season with the pure excitement only a child can wholly embrace.
And then I saw this.
Our 2009 Christmas Tree, decorated with the love and devotion of my two kids, Jeremy and me. Monday Night Football was eventually turned off, we did drink those hot chocolates in front of the roaring fireplace and I heard all kinds of Christmas wishes.
Sounds lovely, right? It really was.
Mindy